Details
As the smallest fixed-lens cameras (like the Fujifilm X100 and Sony RX1R series) inherit the capabilities of their larger, interchangeable-lens brethren, so too should your camera strap — and that's exactly what we've done with the F1ultralight — incorporating much of what photographers love about their F1's.
With durable 3/4″ wide webbing and tiny-but-tough acetal hardware, the F1ultralight is strong where it counts. More importantly, it's small where it counts — especially near your hand, where it matters most. Built with our tiny-but-mighty Standard Split Rings, exclusively for lug mount cameras — it's as close as you can get to holding a naked camera.
F1ultralight vs. F1: The Differences
Functionally, the F1ultralight is similar to our acclaimed F1 — streamlined, easy to adjust, and plenty strong — with a couple key differences…
#1—F1ultralight is Slimmer
The F1ultralight is slimmer than the F1, by a lot. On paper, the difference between 3/4″ (19mm) and 1″ (25.4mm) wide webbing might not sound that big, but it is — and the hardware is smaller too. The sum of the F1ultralight's parts is significantly more compact, even though the length and range of adjustment are practically the same.
With very small cameras, there's no appreciable difference in comfort (we recommend the F1ultralight for cameras up to 1.5lb [.68kg] even though it's fully-capable of supporting much more), but you may find an F1 more comfortable on bigger cameras (wider webbing distributes weight across a larger area).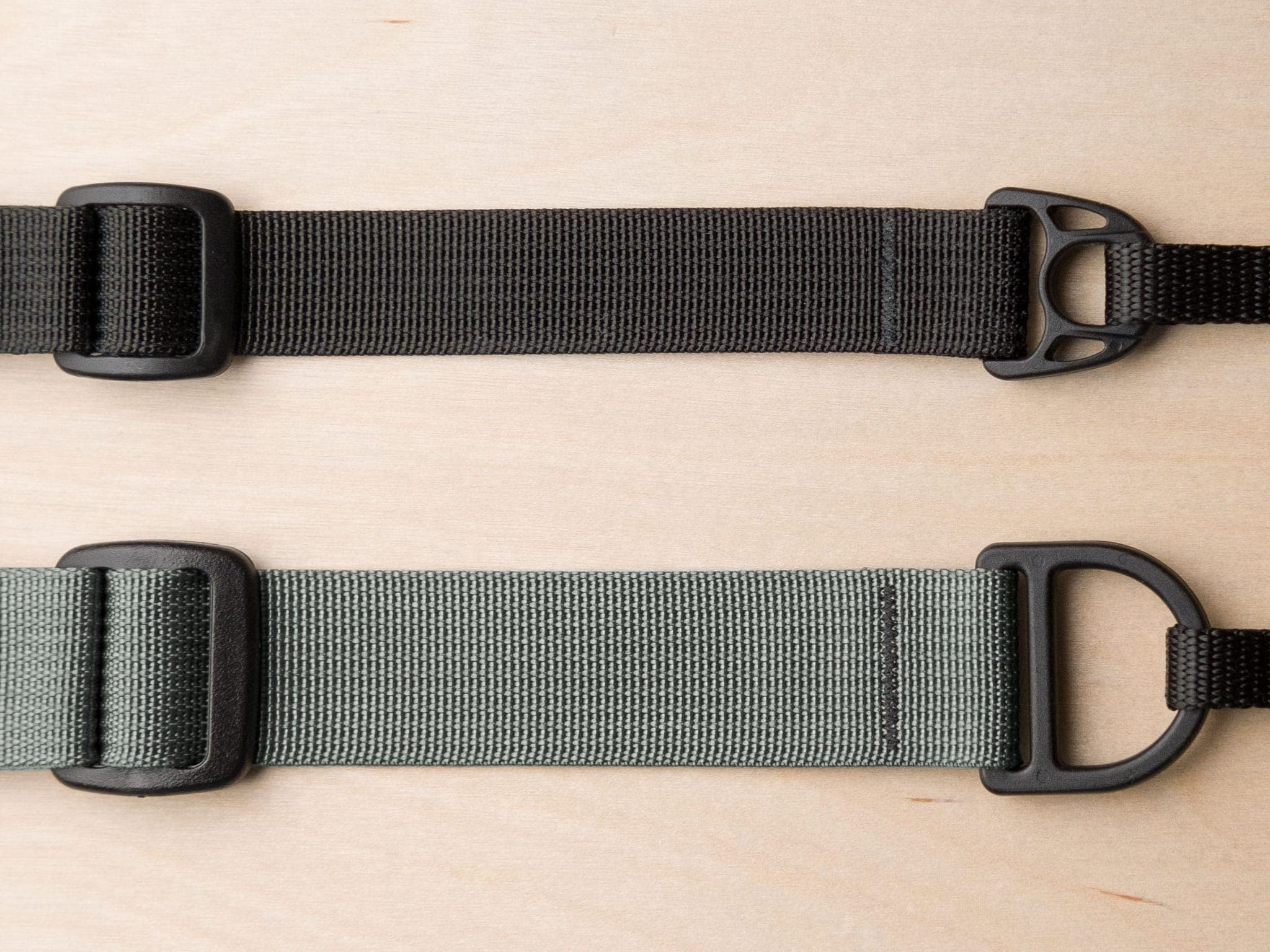 #2—Different Conversion "Hacks"
Unlike the F1, which is converted into a wrist strap by passing the webbing through the D-rings — the F1ultralight converts to a long tether by passing the webbing through the integrated "rip cord" loop — or a short wrist strap by tying in a knot (unlike regular camera straps, it's easy to untie).